I n a culinary class
of its own
Pull up a chair, unfold your napkin, take a bite and close your eyes: at La Creuzette we take the art of dining seriously. Our produce is wholly organic, the meat we serve is sustainably raised and the fruit and legumes are seasonally selected.
The culinary experience at La Creuzette is superbly varied – guest chefs offer cookery demonstrations, several of which are hands-on sessions, and the guests on our cooking programme get the chance to work with internationally acclaimed chefs.
La Creuzette's culinary evolution is captured in two popular publications: Festive France enjoyed six editions in English and Afrikaans and one in German. The Story of a House is La Creuzette's most recent title: a storybook/cookbook with more than 90 recipes and captivating tales about the region and its culinary history and traditions.
When you sit down at an imaginatively prepared table at La Creuzette, you are in for a festive treat. The crockery, crystal and flatware are never used twice during your stay – not because we are overly fussy, but because we care about the creative presentation of our menus and strive to make our guests' experience unforgettable. It is true that you also eat with your eyes.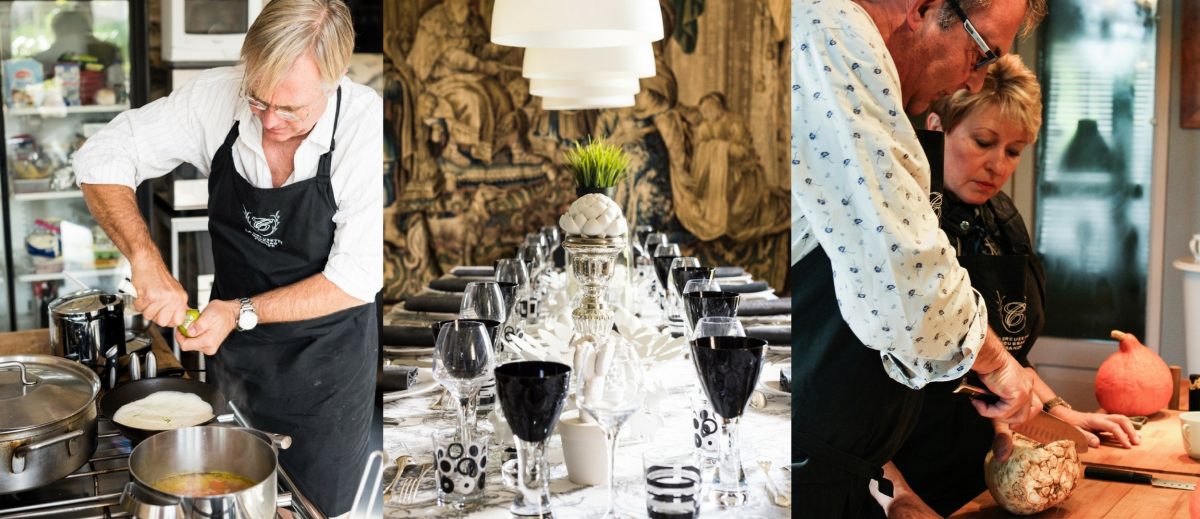 Have you heard about our cooking classes?
We offer a range of informative and enriching cooking classes in La Creuzette's well-equipped summer kitchen. These enlightening sessions are separate from our holiday packages and can be reserved as a day visit. Assemble a group of friends and custom-make your creative culinary session in the kitchen. Or make it a family get-together. There is a range of classes available, focused on lunch or dinner. Add a market visit to your session and hand-pick the produce you will transform into a delectable feast. Classes accommodate a minimum of 6 people and a maximum of 12 and can be presented in English or French.