Welcome to
La Creuzette
"These are the keys to paradise" were the welcoming words when Château de la Creuzette was handed over to hosts Louis Jansen van Vuuren and Hardy Olivier in 2001. This idyllic estate prospered over the years into an acclaimed and sought-after luxury holiday destination. A wide range of themed breakaways are on offer every year: rouse your inner artist, awaken the writer in you or become the chef you always wanted to be. Or join one of our experiences specially tailored for lifestyle enthusiasts and Francophiles.
Read more...
Experience La Creuzette with our
holiday packages
At La Creuzette, we offer a creative collection of exciting seasonal itineraries. These ever-evolving week-long courses are constructed with experts presenting hands-on, interactive classes and lifestyle experiences. Every holiday is carefully planned and built around guests' expectations. Exquisite attention to detail makes each La Creuzette package a unique and stimulating event, often referred to by guests as life changing.
Read more...
Book a
Short Stay
We introduced short-stay visits to the La Creuzette itinerary by popular demand. Guests may visit La Creuzette as a tranquil getaway for a few days, add on extra days after their La Creuzette experience, or just stop over for an overnight stay en route to the south of France. These options are offered on a bed-and-breakfast basis, but can also be customised.
Read more...
Cooking, painting and lifestyle experience
Packages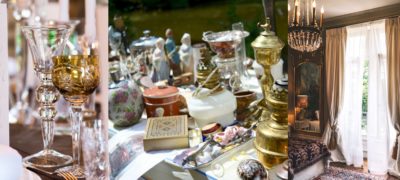 Antique hunting in France
27 Apr 2019 - 02 May 2019
Spring has sprung and our very first holiday is composed around two of the most extensive country fairs – brocantes, as the locals refer to this national pastime. The program also includes excursions to the best focal points in the Limousin and neighbouring areas.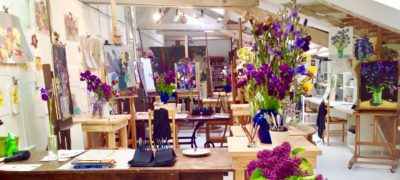 French Art and Gardens Experience
13 May 2019 - 18 May 2019
Art and nature are inseparable and it's from this premise that we offer our guests a unique garland of experiences. You may choose either to paint with Louis Jansen van Vuuren or join the group on visits to the fragrant gardens on our itinerary.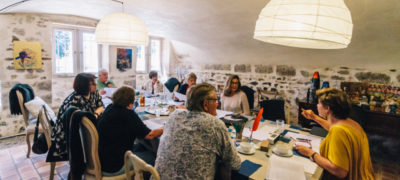 'n Kursus in Skryfkuns en Kreatiewe Denke saam met Riana Scheepers
26 May 2019 - 31 May 2019
Verras jouself! Almal het 'n storie om te vertel. Ontgin jou verborge talent as skrywer, verteller, filosoof, kritikus of kok…of net as waarnemer en waardeerder van die skoonheid van La Creuzette.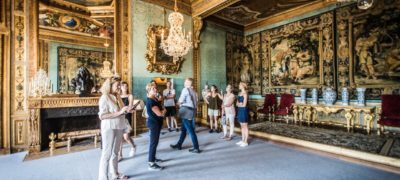 The Most Beautiful Gardens of Central France and the Chaumont Garden Fair
08 Jun 2019 - 14 Jun 2019
Spring has changed to summer. The glorious gardens are in fragrant bloom. The La Creuzette team composed a magnificent overview of French traditional and contemporary botanical and architectural design.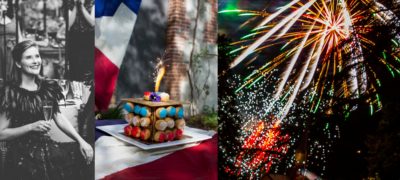 Bastille Day Celebrations in Boussac
10 Jul 2019 - 15 Jul 2019
La Creuzette is making a Song and a Dance about this year's Bastille Day Celebrations! We arranged a series of classical recitals performed by celebrated musicians and singers. On the big day, a seductive feast will take place in the shimmering park.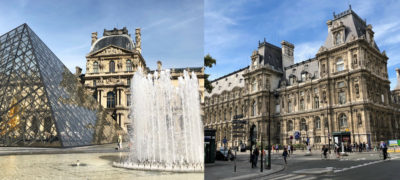 Paris on Sale. Shop with celebrity Personalities in Paris, Vichy, and in the French Countryside.
27 Jul 2019 - 01 Aug 2019
La Creuzette chooses the July summer sale session to present our guests with the shopping time of their lives. One night in glorious Paris and four at La Creuzette where we will do brocantes and antique fairs in the area, including beautiful Vichy.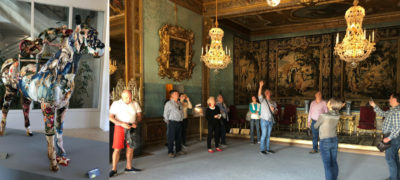 Antiques, Art, and Tapestries
25 Aug 2019 - 30 Aug 2019
This exciting program opens with a visit to the legendary Lady and the Unicorn Tapestry cycle at the Cluny museum and a sojourn at the majestic Vaux le Vicomte outside Paris. We visit both Aubusson and Felletin for a comprehensive study of the ancient tapestry craft.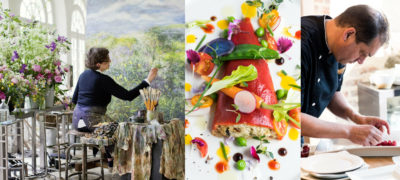 Through the Flower: An exclusive La Creuzette Painting and Cooking Holiday
10 Sep 2019 - 15 Sep 2019
Through the Flower is a doubleheader program: Painting the Summer blooms & Cooking from the summer kitchen garden. A wondrous and creative studio exploration of magnificent flowers in bloom with the privilege of visiting the atelier of the world famous French artist Claire Basler.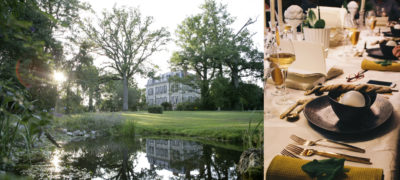 Tailor-made Holiday at La Creuzette
23 Sep 2019 - 28 Sep 2019
We offer an opportunity for you to invite a group of friends or family to compose your own bespoke dream holiday. A personalized sejour designed to suit your every need and desire.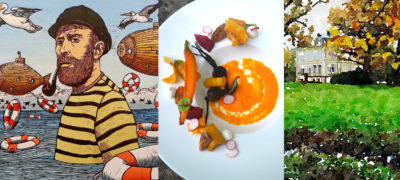 Cutting it Fine: A Printmaking and Chef's Table Experience
15 Oct 2019 - 20 Oct 2019
Cutting it Fine is our second doubleheader for the season. Printmaking and a Chef's table experience where the culinary artists will work equally as creatively as their fellow printmakers. Create a small edition of linocuts with Theo Paul Vorster in the La Creuzette art studio.
Tickle your tastebuds with our
Food and dining offerings
Pull up a chair, unfold your napkin, take a bite and close your eyes: at La Creuzette we take the art of dining seriously. When you sit down at an imaginatively prepared table, you are in for a festive treat. The crockery, crystal and flatware are never used twice during your stay.
Read more...
Host your event at
La Creuzette
The magnificent park at La Creuzette is the perfect location for a festive celebration, be it a graceful wedding, a stylish cocktail party, an exquisite formal dinner or even a music concert! We have hosted a television promotion at La Creuzette and are delighted to accommodate any special events or launches.
Read more...
Explore the French countryside around
Boussac
Boussac is a small village in the Creuse area in central France's Nouvelle-Aquitaine region. It is often referred to as La France profonde – the authentic "deep" France where time seems to stand still and inhabitants routinely stop to say a friendly bonjour to passers-by. The village, with its stone houses on the banks of the Petit Creuse river, has been a tight-knit community since Roman times. Join us for unforgettable experience here in the French countryside with its booming markets and nearby historic cities and towns such as Aubusson, Limoges and Bourges.
Read more...
Take home your memories
Of La Creuzette
From time to time, we place some exceptional items in our virtual shop window: be it a set of embroidered antique French serviettes, a small pastel drawing, antique Limoges porcelain or bespoke ceramics and table cloths by Louis Jansen van Vuuren. You might even find a restored Aubusson tapestry cartoon.
Read more...

2018-11-05
The landscape turns to gold and as autumn leaves start to fall, our 2018 season at La Creuzette draws to a contented close. The bleak blue sky fills with whirling wheels of bonfire smoke as we prepare for winter that is lurking around the four corners of the Creuse region.

"Life is so startling, it leaves time for little else." A quote certainly applicable to La Creuzette. Every sense catered for 24/7! Thank you, thank you, thank you.

Penny Dobbie
Being at La Creuzette is pure luxury and a necessity for the soul. Hope to keep returning for the company and the learning!

Sheila Kaplan 19 September 2012
Amazing house, food, company. Can't wait to return!

Perelandra Wait 13 October 2013
In my lewe het ek nie so ervaring gedroom of verwag nie. Dankie vir prentjies wat my vir ewig sal inspireer en aan die gang sal hou.

Therese Benade 12 September 2014
Dankie vir al die skoonheid, gasvryheid en bederf. Dit was heerlik.

Lynette Steele 30 May 2015
Words just aren't enough. Every aspect of our week here exceeded expectation. We sincerely hope to be back before long. Thank you, thank you.

Sandra & Ray Crewe-Brown May 2016
Quel plaisir de passer ces quelques jours dans cette merveilleuse maison avec un accueil des sympathique. Merci cela restera un trés beau souvenir.

Pascale Sourie 13 June 2016
Merci de nous avoir permis de connaitre votre si joli demeure est d'aussi garder un souvenir inoubliable du mariage de Charlotte et Benoit. Merci pour la gentillesse des personnes qui nous ont acceuillis.

Laurette & Pierre Michaudel 13 June 2016
Merci pour cet excellent séjour dans votre très belle demeure où tout est raffinement. Au plaisir d'un prochain séjour en Creuse que nous découvrons.

Véronègue & Francois Delalandre 13 June 2016
Thank you for sharing your piece of paradise in Boussac with us. We saw unforgettable gardens and enjoyed delicious food served in exquisite settings.

Laurie & Rita Chiappini 27 June 2016