A Portrait Painting course and Bastille Celebrations at La Creuzette
Fully Booked
Overview
Louis Jansen van Vuuren presents this creative approach to portrait painting. Explore an exciting range of new techniques in pastel, chalk, ink, and acrylics. Work in different formats and on a wide selection of substrates. Each student will get personal attention and special attentiveness is given to individual style and development. Concurrently, for those who wish to not paint, we run our annual Bastille program where we visit magical places of interest in the verdant countryside. We arranged a series of classical recitals performed by celebrated musicians and guest chefs will prepare some of the sumptuous dinners. On the evening of the 13th July, a seductive feast will take place in the shimmering park.
Cost Breakdown
La Creuzette special interest programmes are carefully compiled to ensure that you have the ultimate, hassle-free luxury holiday experience. Our all-inclusive land arrangement means that everything aside from flights, train tickets, Schengen visas and personal expenses are taken care of as follows:
€3 350 per person sharing
Collection from Châteauroux train station on the 10th July and transfer to La Creuzette
Luxurious accommodation at La Creuzette
Full board accommodation at La Creuzette (i.e. all meals with drinks, also at restaurants we visit)
Art course with all materials and instructions
All excursions and entrance fees as detailed in the itinerary
All cooking demonstrations and guest chefs
All musical concerts and Bastille festivities
Transfer back to Châteauroux train station at the end of the week at La Creuzette
A non-refundable deposit of €1 000 secures your booking with the balance due on or before your arrival at La Creuzette. A single supplement of €650 for the week applies for single occupation.
Itinerary
Day 1 (Sunday, 10 July)
Collection from Châteauroux train station where the group will arrive between 12:00 and 13:00, and road transfer to Château La Creuzette, your holiday residence in Boussac village. We stop for a delicious lunch at the famous l'Escale Village. You arrive at your holiday destination in time for tea, coffee and mignardises (typically French confectionaries). Take some time to settle in, relax and explore the grounds. We meet in the studio at 18h00 for an introduction and overview of your creative week. Afterward, we enjoy a glass of champagne in the garden, followed by a four-course dinner prepared by your hosts.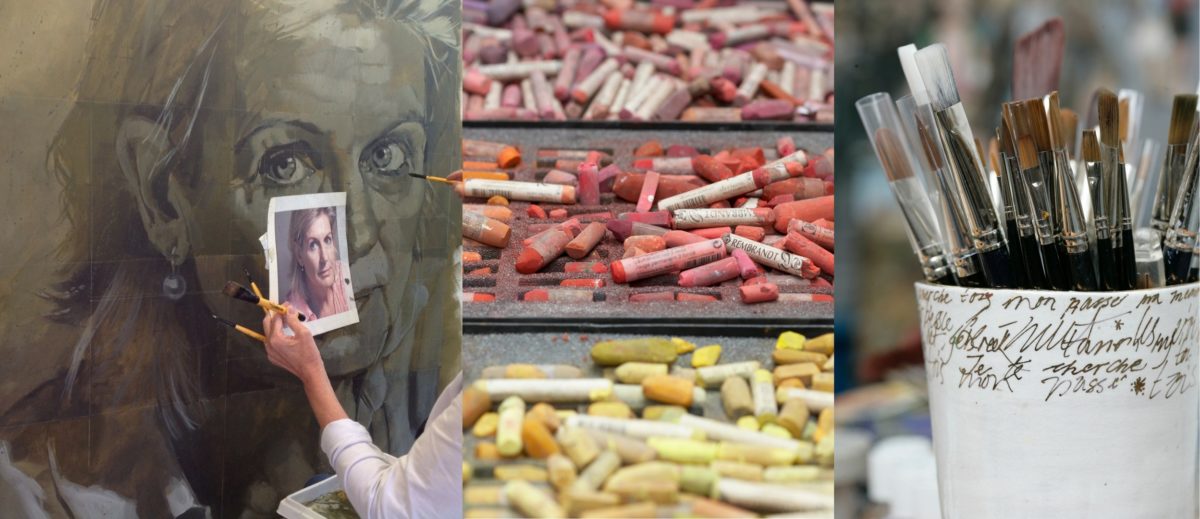 Day 2 (Monday, 11 July)
Breakfast will be served at 9am in the main dining room. After breakfast, the artists meet in the studio for our morning art session from 10h00 – 13h00. Lunch at La Creuzette. The afternoon studio session starts at 14h30 and ends at 17h00. Hardy and the rest of the guests will leave for the Royal city of Bourges where we have scheduled a special visit to the Monin factory. We enjoy lunch at 1 star Michelin restaurant, Le Cercle, preceded by a visit to their wine cellar. We will also visit the chef in the kitchen prior to lunch service. After lunch, we will have some time to shop for interesting ingredients at one of the large restaurant suppliers in the city and also to visit the magnificent cathedral. We return to La Creuzette and later in the evening, we all meet for a classical music concert followed by dinner.

Day 3 (Tuesday, 12 July)
After breakfast, the artists will have their morning art session from 10h00 - 13h00. Hardy and the rest of the group will meet in the summer kitchen at 10:00 for a morning cooking session. We will be cooking from the La Creuzette cookbook, 'The Story of a House' and we will use easy molecular gastronomy techniques to take the menu to the next level. We show you easy ways of entertaining effortlessly. After a morning of fun in the kitchen and the art studio, we all sit down to a delicious lunch in the garden. After lunch, we all we venture to the charming Château d'Ainay-le-Vieil. We may have the rare privilege of being received by countess Marie-France Peyronnet or her sister, the Princess de la Tour d'Auvergne. Their passion for horticulture led to the establishment of the Château's landscaped gardens with majestic oak, cedar and hornbeam trees, sculpted orchard, island garden, and rare old scented roses. The 18thCentury Chartreuse gardens in Breure-Allichamps will be an absolute highlight. We return to La Creuzette and later, we all meet our guest chef in the kitchen for a cooking demonstration. A wine tasting and dinner follows.
Day 4 (Wednesday, 13 July)
After breakfast, the artists spend another full day in the studio with Louis: Morning session from 10h00 - 13h00. Lunch at La Creuzette. Afternoon session from 14h30 - 17h00. The guests that are not painting will join Hardy on a day out to the beautiful village of Charroux. We will visit several of the artisanal producers in this charming village. There is a mustard producer, an award-winning soap maker, producers of scented candles, superb jams, etc. etc. Perhaps we enjoy a picnic under the enormous trees on the Belvedere, overlooking the surrounding undulating landscape, or we can eat at one of the small bistros in the village. We return to La Creuzette for a moment's repose before we all sit down to a private music concert, followed by a dinner feast in the garden, and a pre-Bastille day surprise.
Day 5 (Thursday, 14 July)
Today is Bastille Day! After breakfast, we all take a short drive through the beautiful countryside to spend the morning at a Brocante where we participate in the French pastime of finding treasures amongst the Bric-a-Brac and antiques on offer. After we did some bargain hunting we return to La Creuzette where we will enjoy a light lunch in the garden under the trees. The artists will return to the art studio for their last session from 14h30 – 16h30. For the rest of the guests there will be an optional visit to the 11th century Chateau de Boussac. This gothic castle (privately owned) is filled with an incredible collection of antiques and beautiful tapestries. We also explore the rest of the village and its interesting history. Those who wish to rather enjoy a relaxed afternoon at La Creuzette, are free to do so. At 19h00 we all meet in the art studio for a feedback session and an exhibition of the art produced during the week. Our Farewell Bastille-Day dinner follows in the dining room of the summerhouse.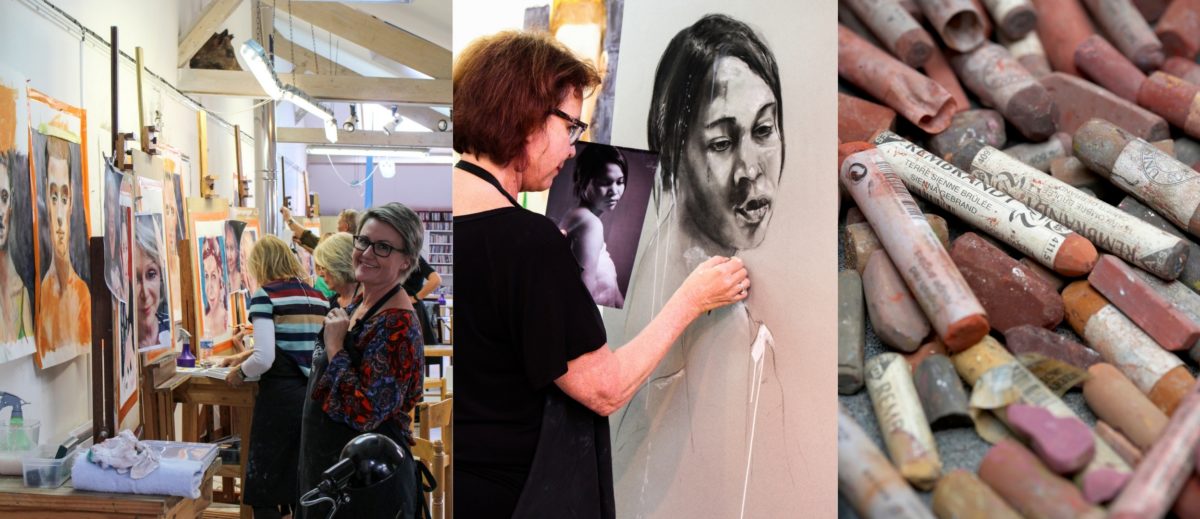 Day 6 (Friday, 15 July)
After breakfast, we load the luggage and take a short drive to the Priory garden at Notre Dame d'Orsan. This was the inspiration for the garden concept at Babylonstoren in Franschhoek and the same garden designer replicated this structured gardening style at Babylonstoren. We spend the morning wandering through this magical garden. From here we depart for Châteauroux from where the fast train to Paris departs.

Please note that this itinerary may be amended to accommodate suppliers, service providers and the weather.

Terms and Conditions apply
Dates
10 Jul 2022 - 15 Jul 2022
Price
€ 3 350 per person sharing
Highlights
Collection from Châteauroux train station on the 10th July and transfer to La Creuzette
Luxurious accommodation at La Creuzette
Full board accommodation at La Creuzette (i.e. all meals with drinks, also at restaurants we visit)
Art course with all instructions and materials
All excursions and entrance fees as detailed in the itinerary
All cooking demonstrations and guest chefs
All musical concerts and Bastille festivities
Transfer back to Châteauroux train station at the end of the week at La Creuzette