La France Magnifique: 'n De Kat en La Creuzette Duette
Oorsig
Hierdie spesiale vakansie op die Franse platteland word deur gashere, Louis Jansen van Vuuren, Hardy Olivier en gasvrou DeVerra Auret aangebied. Die program word saamgestel uit hoogtepunte van die La Creuzette portefeulje. Besoeke aan: Aubusson, die wêreldbekende hoofstad van die ryk Franse weef tradisie; Bourges wat spog met een van die mees indrukwekkende Gotiese katedrale is ook 'n kulinêre brandpunt van die streek; Limoges, waar porselein in al sy skeppende fasette ontgin word, is steeds die toonaangewende middelpunt van Franse porselein ontwerp en styl. 'n Verdere hoogtepunt van die vakansie is die besoek aan die Circuit Mornay vir 'n gevorderde bestuur-les gevolg deur 'n asembenemende jaagtog op die renbaan. Ons touleier is die afgetrede Formule III-kampioen Pierre Petit en die renbaan is by sy privaat château.
Koste Uiteensetting
La Creuzette se spesiale programme word noukeurig saamgestel om te verseker dat jy die ultieme, moeitevrye luukse vakansie-ervaring het. Ons allesomvattende pakket beteken dat alles behalwe vlugte, Schengen-visa en persoonlike uitgawes, as volg ingesluit word:
€3 500 per persoon wat deel
Vervoer van Parys na La Creuzette
Luukse verblyf by La Creuzette vir die 5 nagte
Alle etes met drankies, ook by restaurante
Alle ekskursies en toegangsfooie
Alle kook demonstrasies en gas sjefs
Vervoer na Châteauroux aan die einde van die toer en trein terug na Parys
'n Nie-terugbetaalbare deposito van €1000 verseker jou bespreking met die balans verskuldig op of voor jou aankoms by La Creuzette. 'n Ekstra bedrag van €650 vir die week geld vir enkel verblyf.
Program
Dag 1: (Sondag, 16 September)
Gaste word vroegoggend (tussen 06h00 en 06h30) by Charles De Gaulle lughawe ontmoet. Dit is moontlik om gaste wie reeds in Parys is, by hulle hotelle in die middestad af te haal. Daarna besoek ons Vaux le Vicomte, bekend as die mooiste kasteel in die wêreld. Ons geniet middagete by die kasteel. Later begin ons rit na Boussac in die mooi Franse platteland (ongeveer drie en 'n half uur suid van Parys.) En-route stop ons vir aandete by die alombekende l'Escale restaurant. (Hierdie vragmotorstop is die oorsprong van die Michelin publikasie en stertoekennings vir kulinêre voortreflikheid.) By bestemming geniet ons 'n drankie voor ons inkruip vir 'n goeie nagrus.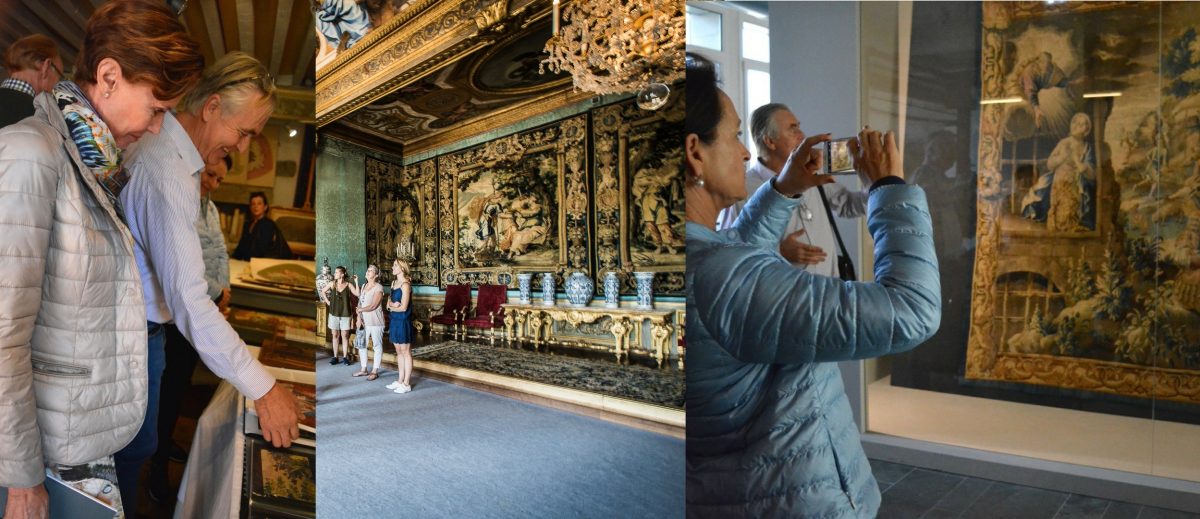 Dag 2: (Maandag, 17 September)
Ontbyt word om 09:00 bedien. Daarna besoek ons die historiese dorp, Aubusson, waar die wêreldbekende tapisserieë en matte sedert die 15de eeu geweef word. Ons besoek die splinternuwe Cité de la Tapisserie et de l'art tissé waar ons die indrukwekkende uitstalling van wandtapyte uit verskeie eeue sien. Daarna geniet ons middagete by Bistro Gourmand op die Terrade brug. Daar is genoeg tyd vir 'n wandeling deur die middedorp met sy vele winkels en galerye. Om 14h00 ontmoet ons mekaar weer by Mme Chirac se antiekewinkel aan die oewer van die rivier. Chantel Chirac is bekend vir haar kundige herstel van carton (tapisseriepatrone). Ons besoek ook haar ateljee, waar 'n groot verskeidenheid carton te koop aangebied word. Daarna besoek ons 'n tapisserie-restoureerder se ateljee asook 'n bekende meester-weewer se werkswinkel. Laat namiddag keer ons terug na La Creuzette waar ons vir 'n oomblik kan ontspan, voordat ons ontmoet vir sjampanje gevolg deur aandete.
Dag 3: (Dinsdag 18 September)
Na ontbyt vertrek ons na Bourges waar ons die oggend in die stad se welbekende Gotiese katedraal deurbring. Die gebrandskilderde vensters is besonder spesiaal. Na 'n wandeling deur die historiese deel van die stad geniet ons middagete by La Gargouille, 'n byderwetse bistro met opwindende disse. Na middagete, doen ons 'n besoek aan die Monin fabriek waar die alombekende kulinêre strope, geurmiddels en souse vervaardig word. In die namiddag sluit ons aan by die sjefs van Le Cercle ('n Michelin bekroonde restaurant) vir 'n kooksessie in die restaurant se besige kombuis. Aandete word ter plaatse geniet.
Dag 4: (Woensdag 19 September)
Vandag se uitstappie is na Limoges, die porselein hoofstad van Frankryk. Ons besoek die Nasionale Porseleinmuseum met sy pragtige uitstallings van pottebakkery en porselein. Daar is ook antieke glas en emaljes in die versameling. Middagete word by 'n plaaslike bistro geniet en later besoek ons Bernardaud, een van die mees bekende vervaardigers van eietydse porselein. Vanaand geniet ons 'n heerlike Franse braai. Aandete volg.
Dag 5: (Donderdag, 20 September)
Vandag is mark-dag in Boussac. Na ontbyt verken ons die veelkleurige markstalletjies in die midde dorp. Vars groete en vrugte is reeds van dabreek uitgepak. Die handelaars smous met kaas, varsgebakte brood, organiese produkte, vis van La Rochelle en geurige seep van Marseille. Jy gaan selfs spitgebraaidelamsnek tot lewendige hoenders raak loop. Ons ontwerp 'n smaaklike spyskaart vir middagete uit dit wat ons op die mark aangekoop het. Ons sit aan vir 'n alfresco ete om die lang kliptafel buite die somer kombuis. Na middagete vertrek ons na die Circuit Mornay vir 'n gevorderde bestuur les en 'n jaagtog om die baan van die afgetrede Formule III-kampioen Pierre Petit. Die renbaan is deel van sy indrukwekkende privaat landgoed. Ons keer terug na La Creuzette vir sjampagne en ons afskeid aandete wat voorberei word deur 'n gas sjef.

Dag 6: (Vrydag, 21 September)
Na ontbyt, stap ons saam met ons Engelssprekende gids deur die historiese dele van ons dorp. Ons sluit die program af met 'n besoek aan die 15de eeu Château de Boussac. Dié kasteel is vol wonderlike antieke meubels, wandtapyte en boeiende stories en legendes. Na die oggend uitstapies vertrek die groep na die Châteauroux-stasie, waar 'n snel-trein gehaal word vir die terugreis na Parys.
Please note that this itinerary may be amended to accommodate suppliers, service providers and the weather.
Terms and Conditions apply
Dates
16 Sep 2018 - 21 Sep 2018
Price
€ 3 500 per persoon wat deel
Highlights
Vervoer van Parys na La Creuzette
Luukse verblyf by La Creuzette vir die 5 nagte
Alle etes met drankies, ook by restaurante
Alle ekskursies en toegangsfooie
Alle kook demonstrasies en gas sjefs
Vervoer na Châteauroux aan die einde van die toer en trein terug na Parys