'n Kreatiewe slypskool in die Skryfkuns met Dr. Riana Scheepers
Nou oop vir besprekings
Oorsig
Dit is onwaarskynlik dat jy nie deur die skoonheid wat jou omring begeesterd gaan wees nie. Verras jouself ! Ontsluit die woordkunstenaar in jou. Elkeen het 'n storie om te vertel. Ontgin jou kreatiewe talent as skrywer, filosoof, verteller, of kok. Of bloot as waarnemer en waardeerder van La Creuzette en die mooi omgewing.
- Kursusgangers word bekend gestel aan voortreflike tekste en films in 'n groot verskeidenheid van genres.
- Ons poog om die natuurlike kreatiewe energie van elke kursusganger te ontwikkel deur blootstelling aan uiteenlopende kunsvorme.
- Begeleiding van die kursusgangers se individuele projekte.
- Mini-meesterklasse in die kortverhaal en romankuns.
Hierdie kursus is nie slegs vir die kreatief-begaafde persoon ontwerp nie, maar vir almal wat betower word deur die wonderwêreld van kuns, historiese argitektuur en die oordaad van skoonheid.
Koste Uiteensetting
La Creuzette se spesiale programme word noukeurig saamgestel om te verseker dat jy die ultieme, moeitevrye luukse vakansie-ervaring het. Ons allesomvattende pakket beteken dat alles behalwe vlugte, trein kaartjies tussen Parys en Châteauroux, Schengen-visa en persoonlike uitgawes, as volg ingesluit word:


€2 950 per persoon wat deel
Vervoer van Châteauroux trein stasie na La Creuzette die 23ste Mei
Luukse verblyf (gedeelde akkommodasie) met alle etes en drankies by La Creuzette en restaurante.
Die skryfkursus. Vir diegene wat nie aan die skryfskool wil deelneem nie, is daar kookdemonstrasies en ander ekskursies.
Alle ekskursies (bv. kastele, markte, tuine) asook alle toegangsfooie
'n Kreatiewe sessie in die kunsateljee met kunstenaar Louis Jansen van Vuuren
Vervoer na Châteauroux trein stasie aan die einde van die week by La Creuzette
'n Nie-terugbetaalbare deposito van €1000 verseker jou bespreking met die balans verskuldig op of voor jou aankoms by La Creuzette. 'n Ekstra bedrag van €600 vir die week geld vir enkel verblyf.

Program
Dag 1 (Sondag, 23 Mei)
Gaste word tussen 12:00 en 13:00 by Châteauroux trein stasie af gehaal. Ons stop vir middagete by die alombekende l'Escale restaurant. Hierdie vragmotorstop is die oorsprong van die Michelin publikasie se stertoekennings vir kulinêre voortreflikheid. By La Creuzette geniet ons middagtee, óf koffie, en mignardises ('n smaaklike Franse fyngebak). Ons het genoeg tyd om ons koffers uit te pak en die landgoed te verken. Om 19:30 ontmoet ons vir sjampanje in die sitkamer van die somerhuis. Daarna volg aandete wat deur u gashere voorberei is.
Dag 2 (Maandag, 24 Mei)
Ontbyt word om 09:00 bedien in die eetkamer op die grondvloer. Om 10:00 begin die oggendsessie in die skryfkamer. Die gaste wat nie skryf nie ontmoet vir Hardy in die somerkombuis vir 'n spesiale kooksessie met die fokus op basiese molekulêre gastronomie-tegnieke. Middagete word in die tuin voor die somerkombuis geniet. Vanmiddag besoek almal die historiese dorp, Aubusson, waar wêreldbekende tapisserieë en matte sedert die 15de eeu geweef word. Ons besoek die splinternuwe Cité de la Tapisserie et de l'art tissé waar ons die indrukwekkende uitstalling van wandtapyte uit verskeie eeue besigtig. Ons loer ook in by Mme Chirac se antiekwinkel aan die oewer van die rivier. Chantel Chirac is bekend vir haar kundige herstel van carton (tapisseriepatrone). Ons besoek haar ateljee, waar 'n groot verskeidenheid carton te koop aangebied word voor ons terugkeer na La Creuzette. Vanaand ontmoet ons in die somerkombuis vir drankies waar almal kan deelneem aan die kookdemonstrasie en voorbereiding vir aandete.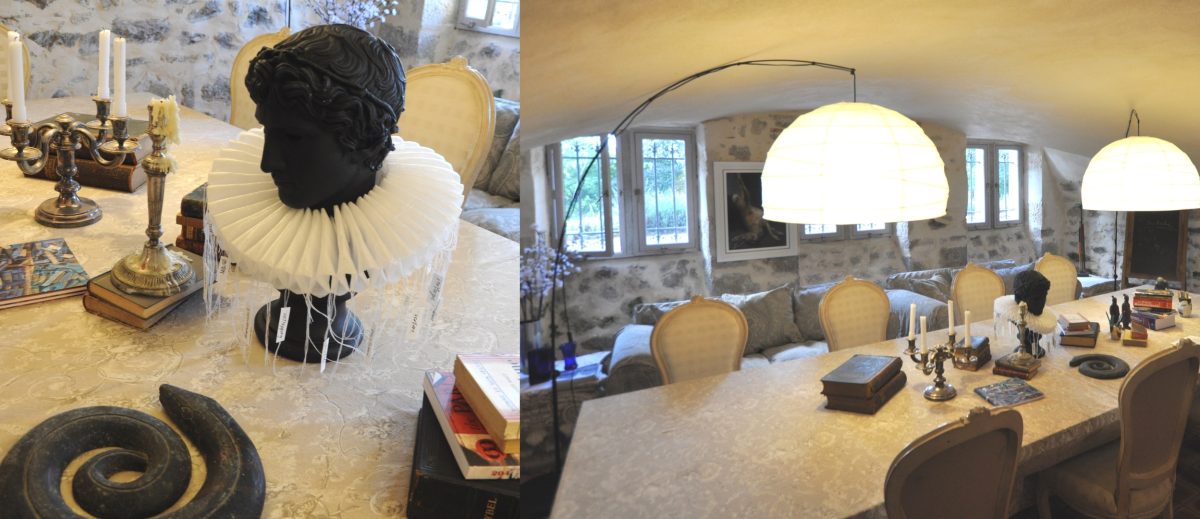 ​Dag 3 (Dinsdag, 25 Mei)
Vanoggend se skryfsessie duur tot 13:00 waarna ons op 'n spesiale uitstappie na die Pierres Jaumatres gaan. Die raar versameling pre-historiese klippe sluit 'n dolmen en menhir opstapeling in. Die stappie duur omtrent 10 min en neem jou tot op die kruin van die Mont Barlot. Georges Sand en Chopin het dikwels daar piekniek gemaak, maar hy het die tog slegs op die rug van 'n donkie aangedurf. Ons maak self piekniek en geniet die mooi uitsig oor die Creuse vlaktes. Later besoek ons Nohant waar die skryfster George Sand se kasteel geleë is. 'n Toer van haar herehuis en tuin is op die program. Vanaand het ons 'n gas-sjef wat 'n kook-demonstrasie doen, gevolg deur aandete.
Dag 4 (Woensdag, 26 Mei)
Na ontbyt begin die skrywers se oggendsessie weer om 10:00. Ons geniet daarna 'n smaaklike middagete in La Creuzette se tuin. Na middagete, besoek ons die tuine van Notre Dame D'Orsan, wat as inspirasie vir Babylonstoren buite Franschhoek gedien het.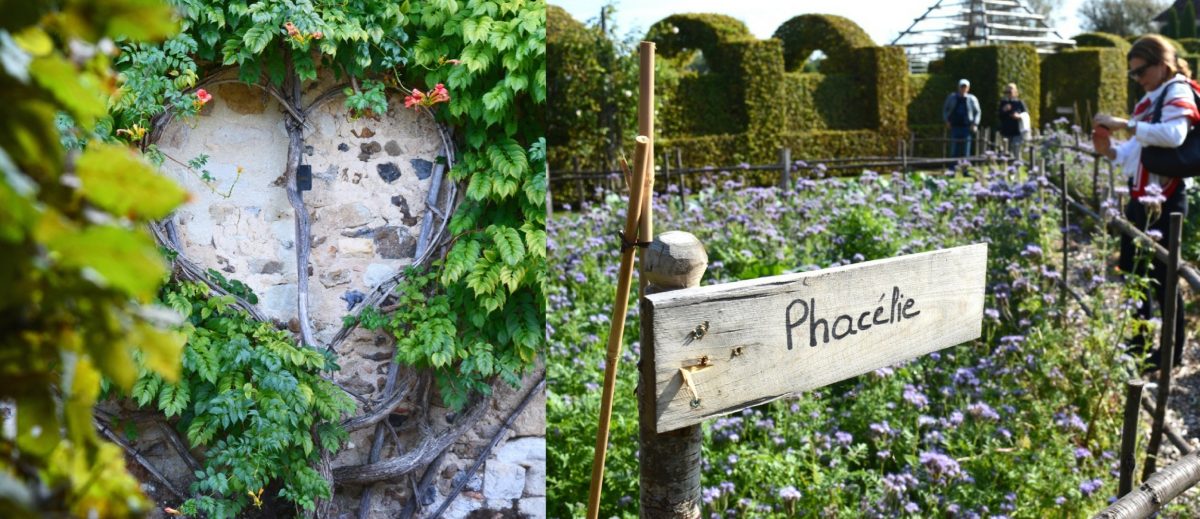 Dag 5 (Donderdag, 27 Mei)
Vandag is mark-dag in Boussac. Na ontbyt stap ons deur die dorp om die tipiese Franse markstalletjies te besigtig. Hier word alles, van geurige seep uit Marseille tot lewendige hoenders verkwansel. Die oggend se skryfsessie begin stiptelik om 10:30. Die gaste wat nie skryf nie, ontwerp 'n smaaklike spyskaart vir ons middagete wat om die lang kliptafel voor die La Creuzette-somerkombuis bedien word. Na middagete spandeer ons almal 'n paar uur in die kunsateljee saam met Louis. Aandete ('n lekker verrassing) is by La Creuzette.

Dag 6 (Vrydag, 28 Mei)
Vanoggend geniet ons 'n rustige ontbyt waarna ons die 15de eeu Château de Boussac besoek. Dié kasteel is vol wonderlike antieke meubels, wandtapyte en boeiende stories en legendes. Ons wandel vir oulaas deur die dorp voordat ons na Châteauroux vertrek waar die sneltrein na Parys op ons wag.
Let wel dat hierdie program moontelik aangepas kan word en aktiwiteite omgeruil of vervang kan word om diensverskaffers en die weer te akkommodeer.

Terms and Conditions apply
Dates
23 May 2021 - 28 May 2021
Price
€ 2950 per persoon wat deel
Highlights
Vervoer van Châteauroux trein stasie na La Creuzette
Luukse verblyf (gedeelde akkommodasie) met alle etes en drankies by La Creuzette en restaurante. (Let wel: Enkelkamers is beskikbaar teen 'n bybetaling van €600 vir die week).
Die skryfkursus. Vir diegene wat nie aan die skryfskool wil deelneem nie, is daar kookdemonstrasies en ander ekskursies.
Alle ekskursies (bv. kastele, markte, tuine) asook alle toegangsfooie
'n Kreatiewe sessie in die kunsateljee met kunstenaar Louis Jansen van Vuuren
Vervoer na Châteauroux trein stasie aan die einde van die week by La Creuzette