The Most Beautiful Gardens of Central France and the Chaumont Garden Fair
Limited places available
Overview
Spring has changed to summer. The glorious gardens are in fragrant bloom. The La Creuzette team composed a magnificent overview of French traditional and contemporary botanical and architectural design. Join us on this remarkable expedition.
Cost Breakdown
La Creuzette special interest programmes are carefully compiled to ensure that you have the ultimate, hassle-free luxury holiday experience. Our all-inclusive land arrangement means that everything aside from flights, Schengen visas and personal expenses are taken care of as follows:


€3 500 per person sharing
Transfer from Charles de Gaulle through the Loire to our hotel in Tours
One night's stay in Tours in twin rooms
Transport from Tours to La Creuzette
Luxurious accommodation at La Creuzette for the 5 nights / 6 days
Full board accommodation (i.e. all meals with drinks, also at restaurants we visit)
All excursions (castles, gardens, markets) including entrance fees and gratuities
All cooking demonstrations and guest chefs
Transport to Châteauroux train station and train back to Paris
A non-refundable deposit of €1 000 secures your booking with the balance due on or before your arrival at La Creuzette. A single supplement of €650 for the week applies for single occupation.
Itinerary
Day 1 (Saturday 8th June)
Early morning arrival in Paris where you are met at Charles de Gaulle airport by your host, Hardy. Once everyone has been collected from the airport and from hotels in Paris, we depart for the Vaux-le-Vicomte estate, 55 km outside Paris. This castle is referred to as 'the most beautiful in the world' and you will see why when we are there…We enjoy lunch at their restaurant and continue to visit the castle and of course the gardens which made Andre le Notre famous. Later we drive to the Loire Region and check in at our hotel in Tours. We enjoy an early dinner at a nearby restaurant.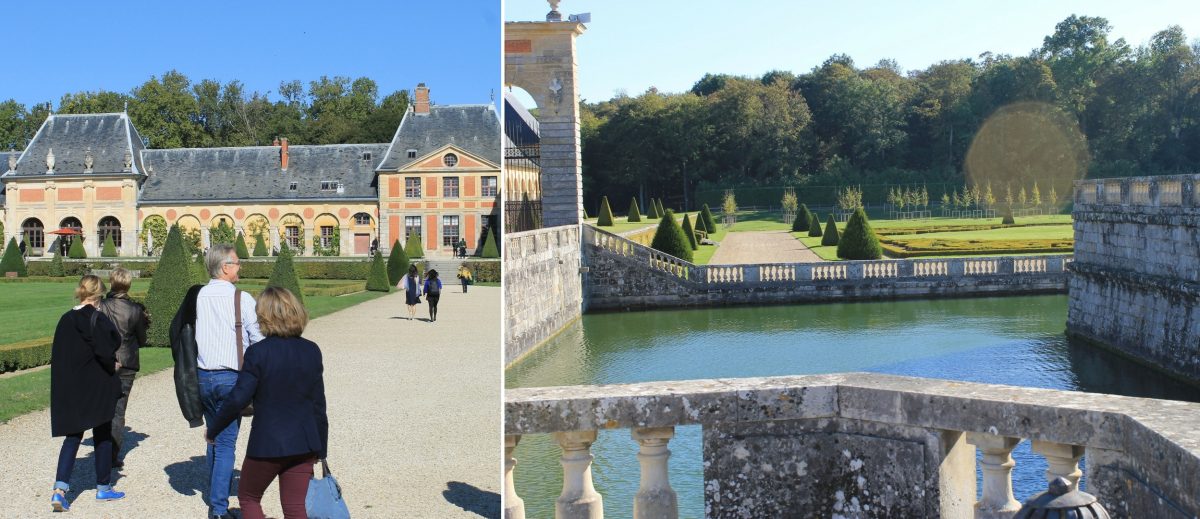 Day 2 (Sunday 9th June)
After breakfast, we load up our luggage and drive to the Chaumont sur Loire garden exposition. Here you will see fresh and exciting renderings of new generation landscapes and experimental gardens. After a light lunch, we continue a little further down river to spend the afternoon at the evolutionary gardens of Villandry known since Rennaisance times for their incomparable beauty. We have a delicious dinner at a famous truck stop en route before continuing on to La Creuzette, your chateau holiday residence. Relax and unwind and settle into your rooms.
Day 3 (Monday 10th June)
We start the day with a leisurely breakfast in the main dining room. After breakfast, we head to Aubusson. This centuries old village is famous for magnificent carpets and tapestries. We visit the newly opened Cité de la Tapisserie with its remarkable woven masterpieces and the Manufacture Royal St Jean where exquisite textiles are still woven and antique pieces are meticulously restored. After lunch at a local restaurant, you are free to stroll through the 'old town' or do some antique shopping at the numerous little shops. Later, we regroup at Mme Chirac's antique shop on the iconic Terrade bridge. Chantal Chirac is an expert restorer specialising in carton (tapestry patterns). For those who are interested, we will also visit another tapestry restorer's atelier (workshop). Later, we head back to La Creuzette. We meet in the dining room of the summerhouse at 19h30 for a glass of champagne followed by a four-course welcome dinner prepared by your hosts.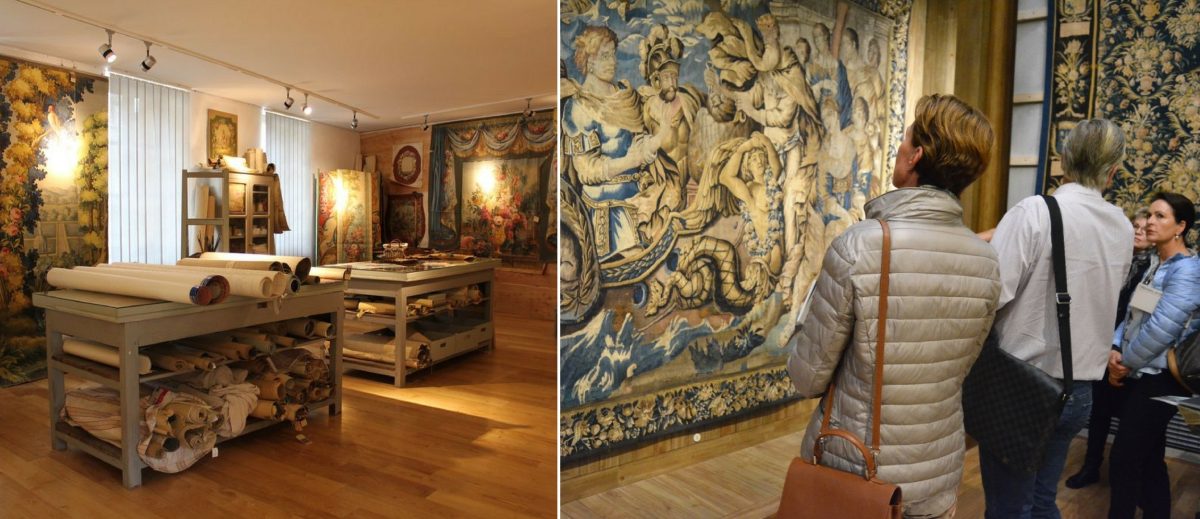 Day 4 (Tuesday 11th June)
This morning we venture into nearby Montlucon to walk through the old part of the city and shop anything from wonderful tablecloths and kitchenware to perfume, clothes, etc. We visit our wine merchant at his newly renovated tasting room for a special wine tasting and a traditional French lunch. From here we make our way to the charming Château d'Ainay-le-Vieil. We may have the rare privilege of being received by countess Marie-France Peyronnet or her sister, the Princess de la Tour d'Auvergne. Their passion for horticulture led to the establishment of the Château's landscaped gardens with majestic oak, cedar and hornbeam trees, sculpted orchard, island garden, and rare old scented roses. The 18th Century Chartreuse gardens will be an absolute highlight.Later we return to La Creuzette for an evening cooking demonstration by a guest chef. Dinner follows.
Day 5 (Wednesday 12th June)
After breakfast, we travel to the picturesque village of Apremont on the banks of the Allier River. Listed as one of the "most beautiful villages of France", it is home to the romantic "French Folly" gardens. Here you will find rare trees, floral borders, a Chinese bridge and a Turkish pavilion that seems to float at the edge of a lake. We have lunch in the gardens at Bistro de la Lavoir with time afterwards to amble through the rest of the village. We return to La Creuzette for cocktails and dinner.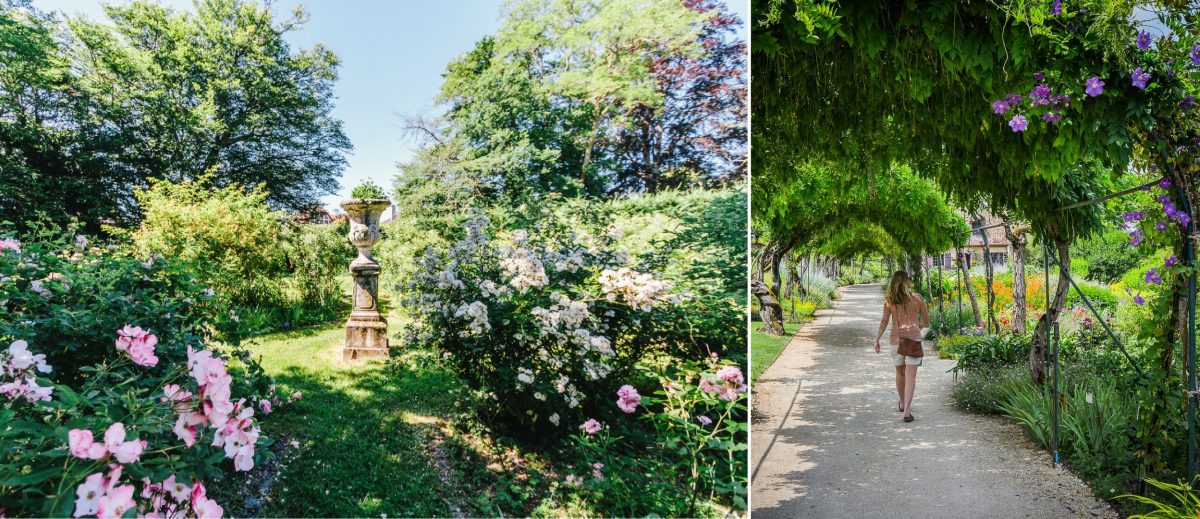 Day 6 (Thursday 13th June)
Today ismarket day in Boussac. After breakfast, we meander through the colourful market stalls which are laden with fresh fruit and vegetables, fragrant soap from Marseilles and other artisanal products from the region. Here we find inspiration for our lunch menu. Using the fresh ingredients selected at the market, lunch will be prepared and enjoyed at the long stone table in front of the La Creuzette summer kitchen. After lunch, we take a short walk to the 11th century Chateau de Boussac. This gothic castle (privately owned) is filled with an incredible collection of antiques and beautiful tapestries. We may have an opportunity to see the owners' private apartments, which are not usually open to the general public. We explore the rest of the village and its interesting history. We head back to La Creuzette, where you will have some time to pack, before we meet for drinks, followed by our farewell dinner.
Day 7 (Friday 14th June)
After an early breakfast, we say goodbye to La Creuzette and depart for Châteauroux where your fast train to Paris awaits.

Please note that this itinerary may be amended to accommodate suppliers, service providers and the weather.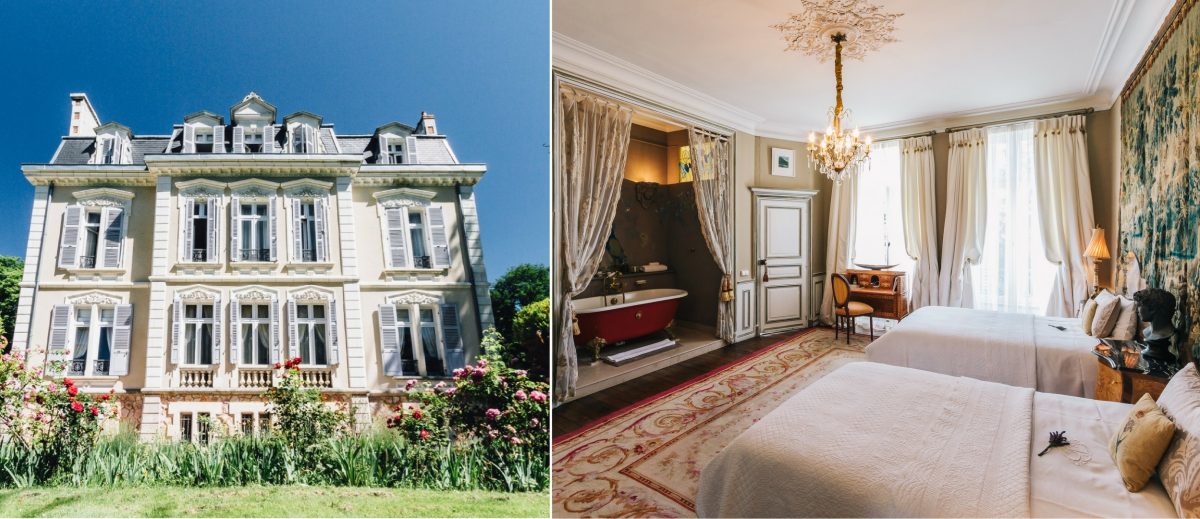 Terms and Conditions apply
Dates
08 Jun 2019 - 14 Jun 2019
Price
€ 3 500 per person sharing
Highlights
Transfer from Charles de Gaulle through the Loire to our hotel in Tours
One night's stay in Tours in twin rooms
Transport from Tours to La Creuzette
Luxurious accommodation at La Creuzette for the 5 nights / 6 days
Full board accommodation (i.e. all meals with drinks, also at restaurants we visit)
All excursions (castles, gardens, markets) including entrance fees and gratuities
All cooking demonstrations and guest chefs
Transport to Châteauroux train station and train back to Paris